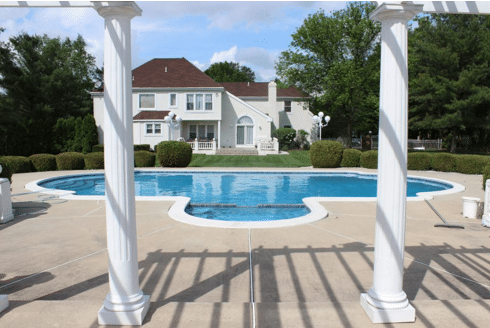 If you're the owner of a Montgomery County backyard pool, sooner or later it's going to be time to make some pool renovations. During this time, it's important to shop around in order to find the best option for your pool and backyard living space. Your new choice of plaster will define your pool for the next 20-30 years, so it's crucial to find a finish that complements the rest of your backyard space and creates an attractive and welcoming pool environment.
If you're in the market for a new pool finish, you may be unaware of the wealth of options available today. In recent years, there has been an explosion in the variety of customizations for pool finishes. Here are some of the most popular:
Krystalkrete – Krystalkrete is an exposed aggregate pool finish, a blend of enriched White Portland cement and special quartz aggregates. It uses many variations of different quartz sizes, colors, and pigments to create a unique look for your pool. This versatility ensures you will find a combination that matches your current pool and backyard space. Krystalkrete is also very durable and etch resistant.
Maui Gem – Maui Gem is a collection of quartz aggregate pool plasters. This finish comes in several different color options, and you're sure to find one that suits your current pool area and backyard. Each option is multicolored, which gives the finish a multilayered appearance. A major benefit of these aggregate finishes is they are resistant to pool chemicals, ensuring the finish will last many years.
White or Gray Plaster – Always a solid option, plaster finishes offer a classic look for a lean budget. White plasters reflect light and give your pool a brilliant shine, while grey finishes create a darker look, which may suit some backyard spaces better.
These are only a few of the many options for Montgomery County pool renovations. Consider these and many others – you'll know when you find the right choice for your pool.
Contact Coronado's Today for Montgomery County Pool Renovations
If you'd like some assistance in preparing your backyard pool for another two or three decades of fun in the sun, contact Coronado's today. We have over 20 years of experience in helping Montgomery County families design and build their dream pools. We look forward to doing the same for you!