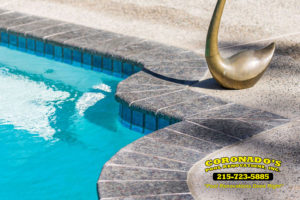 Looking for ways to boost business while ensuring safety for swimmers? Investing in commercial swimming pool repairs is a great way to do so. Pool owners in the Philadelphia area looking for a reliable company to complete repairs can trust in Coronado's Pool Renovations. A family-owned and -operated business, we have over 25 years of experience in repairing and renovating both commercial and residential swimming pools. We're certified to complete pool renovations across the states of Pennsylvania and New Jersey. We are also available for a free consultation at your convenience. With the possibility of existing pool damage worsening to become more difficult and expensive to repair, there's no time like the present to complete pool repairs.
Why Consider Commercial Swimming Pool Repairs?
It's vital to keep up with maintenance and renovations on commercial swimming pools to keep guests happy and safe. Reasons to consider completing commercial swimming pool repairs include:
Attract Guests: Guests aren't likely to want to swim in a pool that is in disrepair. Completing swimming pool repairs on your commercial pool is crucial in making pools attractive to guests and making your pool a desirable destination.
Reduce Risk: Certain pool damages, such as cracks and chips to tiling, coping or plaster, may pose a safety hazard to guests. Repairing commercial swimming pools greatly aids in reducing risk of injury.
Keep Things Fresh: Repairing pool damage is a great way to give your pool a face lift. A modern update will give your pool a memorable look and feel, keeping guests returning for a swim over and over again.
There are many benefits to repairing commercial swimming pools, making these repairs worthwhile undertakings. Many options exist for pool repair; consider repairing damaged tiles, pool plaster, coping and more.
Coronado's for Highly Rated Commercial Swimming Pool Repairs
Coronado's Pool Renovations are highly rated pool contractors serving the Philadelphia area. Our services are available statewide in PA and NJ; we offer a variety of renovation options in addition to pool repairs such as applying pool finishes, completing professional cleanings and more!
Get in touch today to discuss your pool needs with a professional. A member of our staff will be happy to provide advice on how to renovate your commercial or residential swimming pool. We are available for free consultations including quotes so that you can be sure you're getting the best rate on professional pool services.
Contact Information:
Phone: (215) 723-5885
Email: jje@coronadospoolplaster.com