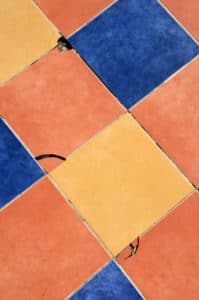 Although it may often go overlooked, damaged tiling can make a pool appear shabby, unsafe, and unclean. Coronado's Pool Renovations recommends swimming pool tile repair for a minor upgrade that can make a huge impact. For residential and commercial swimming pools alike, tile repair is a budget-friendly option for a quick pool improvement project.
Why Update Main Line Swimming Pool Tile?
For a quick, inexpensive way to update a pool's appearance, swimming pool tile repair is a smart choice. There are lots of great reasons to consider pool tile repair, such as:
Appearance: The overall cleanliness and attractiveness of a pool often depends on beautiful tile work. Cracked and damaged tile makes a pool appear outdated and doesn't create a desirable atmosphere for swimming and lounging. By hiring a professional crew to repair your pool's tiles, you can make your tiling appear brand new again.
Safety: Cracked tiling can pose a safety threat as jagged and sharp edges can cut swimmers' exposed skin. Repairing tiling not only adds to the beauty of a pool but is an important safety precaution as well.
Budget Friendly: A fairly simple fix, swimming pool tile repair can work for any budget.
A successful tile repair job depends on having a reliable crew. Coronado's Pool Renovations offers expert workmanship, completing every job with careful attention to detail. One happy customer had this to say of a tiling job completed by Coronado's team: "We had an excellent experience with Coronado's, couldn't recommend them more highly! We needed re-tiling done and repair of the cement bed between our spa and pool. [The crew] came out quickly to give us an estimate, and […] even went above and beyond to help us find a source where we could match our very elusive out-of-production tile. They are experts, and did the work quickly and perfectly. They were also very responsive throughout the process. We are so pleased with them, will absolutely be recommending and going to Coronado's in the future."
Main Line Pool Professionals: Coronado's
When it comes to pool renovations, consider a trusted, family-owned pool contractor like Coronado's Pool Renovations. Not only is the crew at Coronado's certified to complete work on swimming pools on the Main Line, but we also have many 5-star ratings that prove our dedication to detailed and complete pool makeovers. From minor tile repair to the complete application of a brand new style of tiling, Coronado's is able to handle the job. Get in touch today to see how we can help revitalize and repair your pool!
Contact Information:
Phone: (215) 723-5885
Email: jje@coronadospoolplaster.com