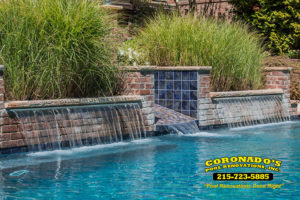 When it comes to swimming pools, it's a good idea to complete projects (including renovations and makeovers) before they become completely necessary. This is true for several reasons, including safety factors and reducing the overall expense.
Now is a great time to start thinking about swimming pool project ideas! As the new year approaches, be sure to include planned renovations as part of your annual budget. Pool improvement projects are great for businesses such as hotels, spas and water parks where a pool is a main attraction for visitors as they can help to attract new guests and drum up business. Residential pool projects are a great way to increase the attractiveness of your backyard while investing in something the whole family can enjoy.
Coronado's Swimming Pool Project Ideas
There are a number of different pool projects that can have a major positive impact on your pool's appearance and safety. Some of Coronado's Pool Renovations' recommended swimming pool project ideas include:
Pool Repair: A fairly minor way to spruce up your swimming pool is to repair any damage such as cracked or chipped tiles, plaster or coping. Fixing up pool damages will improve your pool's safety and increase its attractiveness at the same time.
Choose a New Tile: Retiling your swimming pool is a great way to dramatically improve its appearance. Your pool will feel brand new and modern with new tiling; with sleek and dazzling material options like glass and stone available to you, the possibilities are nearly endless and it's easy to match tiling to your surrounding pool area.
Professional Cleaning: Tough stains and algae buildup may require professional services to regain their shine. Options such as acid washes and stain removal are affordable ways to get your pool looking its best.
For help determining which option is best for you, or if you have other ideas for a swimming pool renovation that you'd like to discuss with a professional, count on the team at Coronado's for help. We're here to offer advice and answer all of your pool renovation questions.
Berks County Swimming Pool Professionals: Coronado's
For a friendly, professional pool contractor that can bring your swimming pool project ideas into reality, Coronado's Pool Renovations is a great choice. Based out of Telford, PA we provide pool design services for Berks County and surrounding areas in PA and NJ. Our services come highly recommended by clients; we're a company you can trust to get the job done right. Get in touch today for a free consultation and to discuss projects that will improve your pool's appearance today!
Contact Information:
Phone: (215) 723-5885
Email: jje@coronadospoolplaster.com