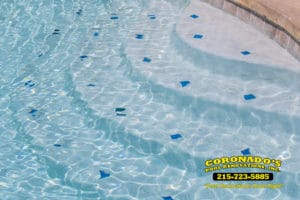 With so many quality options including both SGM swimming pool finishes and CLI pool finishes, Coronado's Pool Renovations makes it easy to find the right swimming pool finish for your pool. With a 10-year warranty available on select finishes, your new pool finish is guaranteed to stand up to many years of use and enjoyment.
When planning for pool renovations, always make sure to choose a pool contractor that is trustworthy and reliable. Expert application of finishes is necessary to make sure precision and care is taken every time. For a great-looking and long-lasting pool finish, only trust established pool renovation companies.
Quality Swimming Pool Finish Options
Whether you prefer a low-key, natural appearance for your pool or a stand-out look that reflects the sun's rays for a dazzling effect, Coronado's finish options include something for everyone. Types of finishes available for your swimming pool include:
Swimming Pool Quartz Finish: Finishes that incorporate natural quartz include Diamond Brite, QuartzScapes, and Krystalkrete. Quartz is available in multiple shades and colors, offering customization options in this sturdy substance.
Swimming Pool Pebble Finish: ​The inclusion of pebbles in a pool finish makes for a very natural, relaxing swimming pool vibe. StoneScapes, River Rok, Maui Gem, SunStone Pearl and more are all fine pebble finishes that are available for installation. Pebble variations include not only a wide range of colors and shapes but also multiple sizes; both mini and larger, regular-sized stone pieces are available.
Swimming Pool Marble Finish: ​For a classy and resilient look, opt for smooth marble finishes. Hydrazzo and Durazzo are two polished marble options that are as strong as they are eye-catching.
All of these fine finishes are designed for durability as well as beauty. Basic maintenance will keep your new finish looking good as new for many years. Feel free to get in touch with a staff member at Coronado's for pool renovation advice. We're available to discuss the differences between finish materials, help match colors and suggest other fixes for your pool issues.
Coronado's: Swimming Pool Finish Pros
Coronado's Pool Renovations offers expert application of all types of swimming pool finishes. Our services are available for any kind of pool, including residential and commercial pools such as water park pools, spas, and Olympic swimming pools. In addition to applying finishes with precision, we offer professional tile work, pool cleanings, tile & coping repair and more. Don't put off pool renovation; contact us today to see how we can help bring new life to your pool!
Contact Information:
Phone: (215) 723-5885
Email: jje@coronadospoolplaster.com