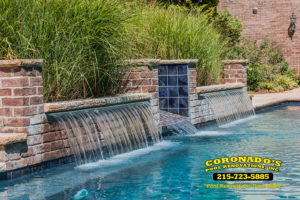 From beginning to end, swimming pool refinishing is a process that Coronado's Pool Renovations has down to a science. Depending on which aspects of your pool need refinishing, our team will work with you closely to plan out your dream pool. We'll help to choose new tiling, coping and finishes in colors and styles that best suit your taste. Then we'll come up with a schedule so you know exactly what to expect during the pool refinishing process. We always make sure to communicate clearly before and during a job so our clients are fully informed and to make sure we're on the same page. Below, we've outlined a clearer picture of what our refinishing process entails.
Coronado's Pool Finish Application Process
For refinishing jobs, including tile & coping replacement as well as the application of a new finish, Coronado's process is pretty straightforward. Our swimming pool refinishing process generally consists of the following steps:
Consultation & Scheduling: At the initial consultation, one of our experts will come to your property and take a good look at your swimming pool. We'll give recommendations about the best ways your pool can be improved. At this point, your options will be discussed, including available types of plaster, tiling and coping. Once we've found your ideal pool solutions, our representative will go over the contract. After the signed contract is brought to our scheduling department, you'll be contacted with a start date for renovations and all details will be finalized.
Tiling & Coping: Our team begins the tiling and coping portion of refinishing by first removing any existing tiles and debris. Once old materials are removed, the installation team will promptly and expertly apply brand new tile and coping.
Preparation: Before new pool plaster can be applied, a preparation process which may consist of waterblasting, cutting and chipping must be completed. At this point, your pool will also be inspected for hollow spots, and bonding cement will be applied as needed.
Plastering & Caulking: Finally, our professional plaster applicators will arrive to apply new pool plaster to your pool's surface, smoothing as they go to create a flawless new pool surface. At this point, self-leveling caulk will be applied as needed to fill any existing gaps between the coping and expansion joint.
Coronado's Completes Pool Renovations in Gloucester County & Beyond
Considering refinishing your pool? Contact the pros at Coronado's Pool Renovations today to discuss your options and get an estimate.
Contact Information:
Phone: (215) 723-5885
Email: jje@coronadospoolplaster.com