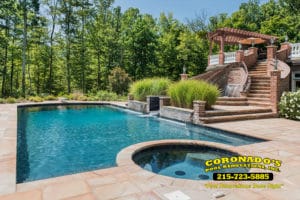 ​The Coronado's Pool Renovations team a top-rated, family-owned, local swimming pool contractors serving Ambler and other boroughs across PA and NJ. We offer complete pool renovations, making it easy to fully renovate your pool to your liking without needing to hire multiple contractors. For high-quality, hassle-free pool renovations, count on Coronado's!
Read our Swimming Pool Contractors Reviews!
Clients' feedback proves that Coronado's crew is very talented at what we do, as well as dedicated to getting the job done right. The following rave reviews show that Coronado's are a highly recommended pool contractors:
Kristen A.​​​: ​"We are very pleased with our pool renovation. The whole process was efficient and organized. Each crew that came out was on time, courteous and neat. Kinya, our sales rep, was excellent. He was actively involved in the whole process and was there to answer questions and check on the renovation process."
Paul G.: "Excellent work!! Family are swimming in my new renovated pool and enjoying it. Would absolutely recommend to all friends and family in the future. What a great experience! We had a budget and they worked within it."
Debbie R.​: ​"We're very pleased with the work Coronado's did. We had our pool replastered, new tile and coping. Quality materials and workmanship. The workers were always on time and as scheduled. One day the plaster crew even waited around for about an hour for the rain to pass. Unfortunately it never passed. So they returned the next working day."
Eric D.: "They did an amazing job reconditioning my pool's tile, coping and plaster. They were fast, clean and on time on the days they were scheduled. I would highly recommend them if you need any pool work."
Our numerous 5-star reviews attest to our team's work ethic and talent when it comes to pool design and renovation. Our extensive services include tile & coping work, refinishing, pool repair, acid washes and more. Schedule your free consultation today and get ready to add your name to our list of satisfied clients!
Coronado's: Trustworthy Swimming Pool Contractors
The decision of hiring the right pool contractor to complete your pool renovations is a crucial one. When you work with Coronado's, you'll see first-hand the level of professionalism and courtesy you'd expect from experts in the field. With over 25 years of experience, our crew is ready to tackle any pool challenges you may have. Get in touch today to discuss your pool renovation needs!
Contact Information:
Phone: (215) 723-5885
Email: jje@coronadospoolplaster.com