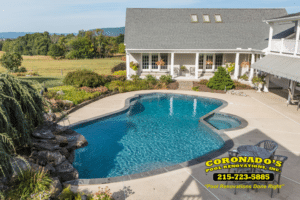 If you're looking for an easy way to liven up your backyard for summer, completing a pool makeover might do the trick. There are lots of ways to bring life to your pool and pool area. From simple fixes and minor repairs to total refinishing projects, there are options for every budget and timeframe. Designing your pool to be the highlight of your yard will make for a fun and relaxing space to spend time in this swim season.
Tips to Spruce up Your Ambler Swimming Pool
Just a few ideas for a pool makeover include:
Add Color: Adding pops of color to your pool area is an easy way to bring life to your pool and backyard. There are many simple ways to add color on your own, or a professional crew can help.
Repair Cracks & Damage: Fixing even minor blemishes can rejuvenate your pool, making it feel brand new again. This simple fix is fast and effective in creating a safe and desirable swimming area.
Remove Algae & Stains: Cleaning your pool of algae and other residue that builds up on surfaces can do wonders for the overall look. Coronado's offers many services such as stain removal and acid washes to clean up your pool.
Refinish: Refinishing your pool creates a whole new vibe for your outdoor space. With options including brand name, material type and endless color choices, you're sure to achieve the exact look you're after.
When it comes to pool renovation, the possibilities are nearly endless. Don't wait: schedule a consultation or project today to make sure your pool is ready for fun by summertime.
Coronado's for Expert Pool Renovation in Ambler
For help with your pool projects, count on Coronado's Pool Renovations. Our expert crew can tackle almost any pool renovation job in a timely and professional manner. Certified to work in the states of Pennsylvania and New Jersey, we offer residential as well as commercial pool renovations.
Give us a call at (215) 723-5885 or send us an email at jje@coronadospoolplaster.com for a free quote and to see what we can do for you. With a few easy fix-ups, a dazzling new pool awaits you this summer season!