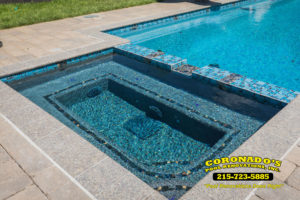 Not only do cracked and damaged swimming pool areas have an unsightly appearance, but they can also pose a safety hazard. Pools with cracked tile and coping are uninspiring for a relaxing swim and can make a space uninviting. Luckily, swimming pool tile & coping repair is an easy fix that can make a big impact. For a thorough repair, count on a professional pool contractor like Coronado's Pool Renovations to get the job done right.
Why is Swimming Pool Tile & Coping Repair Important?
Swimming pool tile & coping repair is vital for the overall aesthetic and safety of any pool. Budget-friendly and a relatively fast process, pool repair is a great option for all pool owners looking to complete minor pool renovations. Reasons it's important to repair swimming pool damage include:
Appearance: Swimming pools-whether in your backyard, a hotel or spa-should be kept beautiful to attract swimmers and create a relaxing atmosphere. Unsightly damage and cracks make pools look outdated and less of a desirable swimming location. Create the atmosphere you want in your pool area with pool repair.
Safety: Cracked tile can have rough edges, something you definitely don't want in an area that sees plenty of bare hands and feet. Pool damage can also pose a tripping hazard.
Preventative Measure: It's important to fix cracks and damage as soon as possible for several reasons; damaged tile and coping can quickly become worse once the wearing has begun. Fixing cracks as soon as you see them will make the fix an easier task and prevent further damage from being done. Pool damage can also cause algae and other buildup to accumulate quicker if rough edges are exposed or deep cracks become difficult to clean properly.
Keep your Camden County swimming pool looking its best and free from danger by repairing cracked and damaged tile and coping. Depending on the amount of damage, tile & coping repair is generally a quick fix that will leave your pool looking like new again.
Coronado's Provides Expert Swimming Pool Tile & Coping Repair
Coronado's Pool Renovations is a family-owned pool renovation company staffed by a trusted team of professionals. We're experts at all kinds of pool repairs, including tile and coping repair. For Camden County and surrounding NJ and PA areas, Coronado's provides the best in pool renovation services. Browse our 5-star reviews and get in touch to schedule your free consultation today.
Contact Information:
Phone: (215) 723-5885
Email: jje@coronadospoolplaster.com