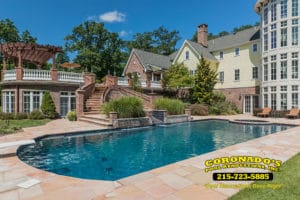 ​
Swimming p​oo​l owners in Chalfont (and beyond) may be wondering, "what is Permakote surface preparation?" If this applies to you, read on to learn more about pool surface preparation and what Permakote is used for.
​"PermaKote is a one-part polymer-modified, cement-based coating specially formulated to increase performance and save time during application" (as stated on clindustries.com). Put simply, Permakote is a substance that acts as a bonding agent and is used during the preparation of a swimming pool surface for refinishing. Permakote is made by CL Industries, a company trusted by many pool professionals. Coronado's offers many CLI finishes for swimming pools as well, such as SunStone Select and KrystalKrete. ​
Swimming Pool Surface Preparation
W​hen completed by Coronado's experienced team, Permakote surface preparation consists of the following steps:​
​Power Down: ​Coronado's offers complete pool preparation services. This includes shutting off power to all elements of the pool, including pool lights, water features and any other pool equipment.
Drain Pool: ​A hands-off experience for pool owners, Coronado's team will carefully drain the swimming pool of any and all water. This allows us to have direct access to the pool's surface.
Preserve Tiling: ​​If the pool's existing tile work is going to be kept, our crew will take special care to undercut beneath the water line.
Acid Wash: ​​During this step, acid safely kills any algae growing on pool's surface. The Coronado's team also completes any necessary chipping, picking and stripping to get the pool's surface down to the gunite.
​Hydroblasting: ​​The final step in prepping a pool's surface is to remove any and all excess plaster, dirt and debris, resulting in a blank slate ready for refinishing.
​After these steps are complete, a bonding agent like Permakote is applied to the prepared pool surface. The bonding agent acts as a link between the surface and the new layer of pool plaster that is applied. The specially designed formula of Permakote makes finish application much simpler, saving time and money.
Coronado's Offers Permakote Surface Preparation & More!
When looking to hire the best in the business to complete swimming pool surface preparation, trust in Coronado's Pool Renovations. We're pool contractors that complete all kinds of pool work and are certified applicators as well as members of the National Plasterers Council. Get in touch today; we're available for free, in-person consultations at your convenience. For pool design in Chalfont, choose Coronado's for a family-owned company that has over 25 years in preparing pool surfaces and other pool work.
Contact Information:
Phone: (215) 723-5885
Email: jje@coronadospoolplaster.com