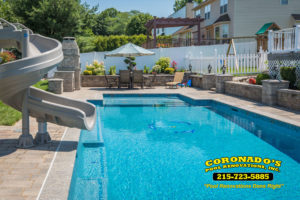 Pool owners in Monmouth County should consider swimming pool plaster repair among other renovations when looking for ways to beautify pools. When a pool is in pristine condition, swimmers feel welcome and can easily enjoy relaxing in and around the pool when the weather heats up. Beat the heat this summer by making improvements to your pool that will last for years to come!
Swimming Pool Plaster Repair & More
In order to achieve your pool's best look, you may want to consider various types of pool repair or professional cleaning services. Some examples of renovations that could help to improve your swimming pool include:
Swimming Pool Plaster Repair: Cracked or otherwise damaged plaster? Calling in a pro to complete plaster repair is a smart step in avoiding injuries while improving the appearance of your pool.
Fix Pool Tile & Coping: Pool coping and tiling receive lots of wear and tear during the swim season. It's a good idea to repair damage to these areas sooner rather than later to save on the cost of repairs and to avoid any injuries to swimmers. Replacing missing tile also helps to create a more visually welcoming pool area for all to enjoy.
Acid Wash: ​A quick way to remove algae buildup from a pool's surface, acid washes are 100% safe and leave your pool surface looking good as new. In some cases, blemishes on a pool's surface may require chemical stain removal.
Refinishing: Choosing a new finish for your pool is a big project that will have amazing results. Completely change the way your pool looks with the installation of a finish in a number of quality materials such as quartz, marble or natural pebble.
Completing various swimming pool projects allows you the chance to customize while making improvements to your pool's appearance. Deep pool cleanings help pools to look like new while repairs help make pools safer and extend the life of the pool by preventing greater damage from occurring. Take steps today to improve your pool; backyard pools, water park pools, spa pools and more all stand to benefit from renovations!
Coronado's: Serving Monmouth County & More
Coronado's Pool Renovations is happy to provide pool repair and renovation services across the states of Pennsylvania and New Jersey. We come highly recommended and offer a wide range of renovation services including pool repair, pool finish installation, various pool cleanings and more. Take the first step towards improving your pool by contacting us today!
Contact Information:
Phone: (215) 723-5885
Email: jje@coronadospoolplaster.com