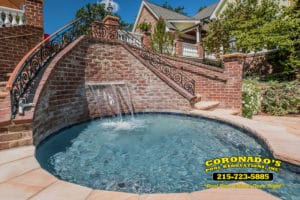 Kick off this summer right by enhancing your Cumberland backyard or business pool with one of Coronado's swimming pool project ideas. With options ranging from small-scale pool repair to complete refinishing projects, pool enhancement can be achieved on any budget and time period. The friendly and knowledgeable pool contractors at Coronado's Pool Renovations are here to share a few projects you can complete to transform your pool this summer!
Suggested Swimming Pool Project Ideas
There's no time like the present to complete pool enhancement projects! Residential pools and businesses with pools such as hotels, spas and water parks all stand to benefit from some sprucing up before opening for a new swim season. Some types of enhancements Coronado's recommends include:
Refinish Swimming Pool: One of the most dramatic pool enhancements you can choose, installation of a new pool finish will dramatically affect your pool's appearance. Select from a number of fine materials for your new finish, such as marble, natural pebble or quartz. With offerings from CL Industries, StoneScapes and SGM Pool Finishes, customizing your pool's look has never been easier.
Swimming Pool Repair: When pool damage starts to appear, pool repair becomes crucial for pool safety and appearance. Tile repair, coping repair, replastering and resurfacing are all professional options to fix whatever pool damage you may have.
Professional Pool Cleaning: ​Calling in the pros to complete deep pool cleanings such as an acid wash or chemical stain removal is a great and quick way to prep your pool for a new swim season. Waterblasting is another service that can be completed by Coronado's crew; waterblasting will result in a perfectly smooth and clean pool surface, free of all debris and ready for replastering.
Be sure to keep the atmosphere of your pool area fun, safe and laid-back by keeping it clean and free of clutter. Keep pool toys on hand as well as water-proof speakers so you and your guests can listen to some poolside tunes. Add plants to your space as a great way to add pops of color while contributing to the beauty of your surroundings.
Coronado's: Experts at Completing Pool Enhancement
In the pool makeover business for over 25 years, Coronado's Pool Renovations know a thing or two about pool design. Our highly rated crew is available to complete your pool projects this summer, but don't wait! Call us today to book your free consultation and beat the summer rush for pool enhancement.
Contact Information:
Phone: (215) 723-5885
Email: jje@coronadospoolplaster.com