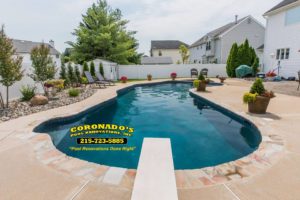 Mercer County pool owners can celebrate the summer by throwing the perfect pool party. With swimming pool project ideas from Coronado's Pool Renovations, your pool and surrounding area will be ready to entertain guests and create a fun atmosphere for summer soirees.
Swimming Pool Project Ideas for Backyard Fun
Whether you're looking to fix up a damaged or outdated pool area, or just looking for ways to add a little extra fun and flair, there's a swimming pool project perfect for you! Examples of easily-completed pool projects and ways to prepare for a pool party include:
Swimming Pool Repair: Pool repair is essential to general pool upkeep. When you spot any kind of damage to your pool, whether coping, tile, plaster or another pool component, be sure to contact the pros as soon as possible. By doing so, you'll be able to prevent damage from becoming a more serious problem and keep your pool area safe for guests.
Pool Cleaning: As simple as it may sound, a thorough pool cleaning can make a huge difference in your pool's appearance. Complete cleanings yourself by scrubbing the pool surface, vacuuming the bottom of the pool and skimming pool water. Remember to regularly change pool filters to keep water clean and clear. Professional pool cleanings such as an acid wash or chemical stain removal are also great options to get your pool looking its best.
Choose the Right Accessories: ​With the sun shining down, it's a good idea to provide some shade for swimmers with umbrellas, tents, tarps, or canopies. Get creative when seeking out accessories for your pool area; consider purchasing pool floats and toys so guests can relax and have fun in the sun.
Supply Snacks: Keeping everyone hydrated and high-energy is simple when you have the right snacks on hand! Watermelon and other fruits are an excellent choice since they not only taste great but also help to keep guests hydrated thanks to a high water content.
Trust Coronado's for Help Completing Swimming Pool Projects
Need help completing swimming pool projects this season? Contact Coronado's Pool Renovations for expert tips and advice. As a family-owned company that's been in the pool renovation business for over 25 years, we've had many years' experience of providing excellent pool services for clients in PA and NJ. Contact us today to discuss ways to improve your pool and schedule a free consultation.
Contact Information:
Phone: (215) 723-5885
Email: jje@coronadospoolplaster.com