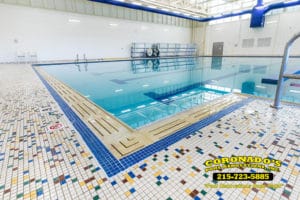 There are many ways to improve your pool, with or without professional help. Pool improvement can take the form of deep pool cleanings or a number of types of renovations completed by pool owners themselves or by hiring a professional pool contractor. Swimming pool renovations are strongly recommended for both commercial and residential pools.
Types of Swimming Pool Renovations
To improve the appearance and overall vibe of your pool, there are many different aspects of a pool to focus on. For example, pool improvements may involve any of the following:
Swimming Pool Tile & Coping: If your pool has aged, outdated tiling, it may be time to think about an upgrade. New tiling helps to give your pool personality and is a great way to add color you love to your space. Coping is also a key element to any swimming pool, so be sure to keep coping clean and in good repair.
Swimming Pool Replaster: For a major overhaul of your pool, choosing a new finish will go the extra mile in improving how your pool looks. Switch things up by choosing a new type of base material for your pool plaster, such as marble, pebble or quartz.
Deep Pool Cleanings: ​Pool owners should consistently complete regular pool cleanings, including tasks such as vacuuming pool surfaces, skimming pool water, emptying pool filters and more. Occasionally, however, deep professional cleanings can benefit any pool. With options like acid washes and chemical stain removal, your pool will be unrecognizable after a good thorough cleaning.
Swimming Pool Repair: Vital to the safety of swimmers, pool repair should be carried out on a continual basis, whenever damage is spotted. Pay close attention to cracking plaster and chipped or broken pieces of tiling or coping, and schedule a pool repair ASAP when noticed. By being proactive about pool repair, you'll avoid any serious damages to your pool, saving time and money in the end.
Pool improvement is crucial to maintaining a beautiful, desirable swim location. Consult Coronado's expert team today to discuss options to improve your pool and get a quote for professional services.
Depend on Coronado's for Quality Swimming Pool Renovations
Choosing the right team to assist with your pool improvement projects is a must. When you work with Coronado's Pool Renovations, you're choosing a company you can depend on to provide quality renovations and expert pool advice. We're a family-owned business with over 25 years of pool service experience and an expertly trained crew. We're ready to complete your pool improvement tasks today! Get in touch.
Contact Information:
Phone: (215) 723-5885
Email: jje@coronadospoolplaster.com